Teresita Tang, Board Member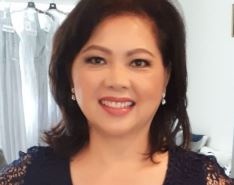 Teresita Tang works as a Travel Consultant for Expedia CruiseShip Centres. As a business woman, Teresita builds positive relationships with her customers and assists her clients in a professional manner.
Teresita was born and raised in Batangas City, Philippines. She achieved her Bachelor of Arts in History degree at the University of Batangas, Batangas City, Philippines. After graduation she worked as a Secretary to the Vice President of Production in an industrial company.
Together with her family, Teresita moved to Canada in June 1992. She further explored her passion for business and established " Foresees Ventures Limited" where she served as Director and Secretary. For a good number of years, she was a Personal Investor for the US/Canadian Stock Market Exchange. She also entered business opportunities with other known companies.
Teresita is active in the community. She serves as one of the core members of the Multicultural Helping House Society.Richmond 55+sers. As a team player, she took part in organizing fundraising activities and outreach activities that showcase multiculturalism to further promote the Multicultural Helping House Society and its outreach in the Richmond community.