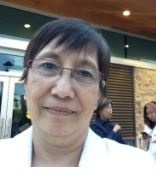 Ms. Erlinda T. Cruz graduated with a Bachelor of Science in Business (Banking and Finance) at the University of the East, Philippines. However, she did not pursue a career in banking. Her first job was in the research field, and she became interested in data gathering at the University of the Philippines School of Economics, Diliman, Quezon City, Computer Section. From 1977 to 2009, Ms. Cruz was also elected President, in volunteer capacity, for the Hardin ng Rosas Housing Association for the UP faculty and staff.
She moved to Vancouver, Canada under the Live-In Caregiver program in 2009. She became reunited with her spouse and adult children in 2015. As a caregiver, she attended various workshops for Dementia, sponsored by the Alzheimer Society in British Columbia:
Family Caregiver Education (VGH) in 2010
Transition to Living Residential Care Facilities (VGH) in 2011
Dementia 2012: Putting Research into Practice (UBC)
Ms. Cruz, together with Mr. Tomas Avendano Sr. organized the Health and Skilled Workers Cooperative, where she was elected President, again in a volunteer capacity, from 2012 to 2014. She now holds the position of Vice President of the Cooperative, while being the MHHS Board Treasurer.